One of the five original supermodels with more than 500 magazines worldwide. Naomi has partnered with the most famous haute couture brands with countless runway shows over the past 30 years.
In the past year alone, she collaborated with H&M, Tiffany's, Nars Cosmetics, Burberry, Versace and Valentino. In 2019, Naomi Campbell was the headline speaker for the Forbes Women Africa Summit and an attendee of the Arise Fashion Week in Africa. For years now, she has also been a proud patron of numerous charities
around the world.
Naomi has over 23 years of fragrance expertise with her eponymous scent remaining a best seller since 1999
and becoming a Fifi Award winner in 2007. Her wide portfolio showcases her multi-faceted personality and inspirational charm.
HERE TO SHINE 

NAOMI CAMPBELL
It's time to shine, ladies: '
Here to Shine' is a sensual fragrance that leaves a lasting impression at all times and gives its wearer the feeling of unashamed femininity. Floral notes of violet, lily of the valley and heliotrope unfold in the heart, conveying a sense of confidence and courage. Sandalwood, cedarwood, musk and patchouli provide depth and longevity to the fragrance.
HERE TO STAY

NAOMI CAMPBELL
Unique, bold and self-confident: 'Here to Stay', the new floral fruity fragrance from iconic role model 
Naomi Campbell,
 reveals a new personal side of her. Notes of juicy raspberry and addictive blackcurrant merge with a radiant heart note of rose. Enveloped by rich and sensual facets of vanilla, the fragrance reveals an unforgettable finish – the perfect scent for all strong women out there.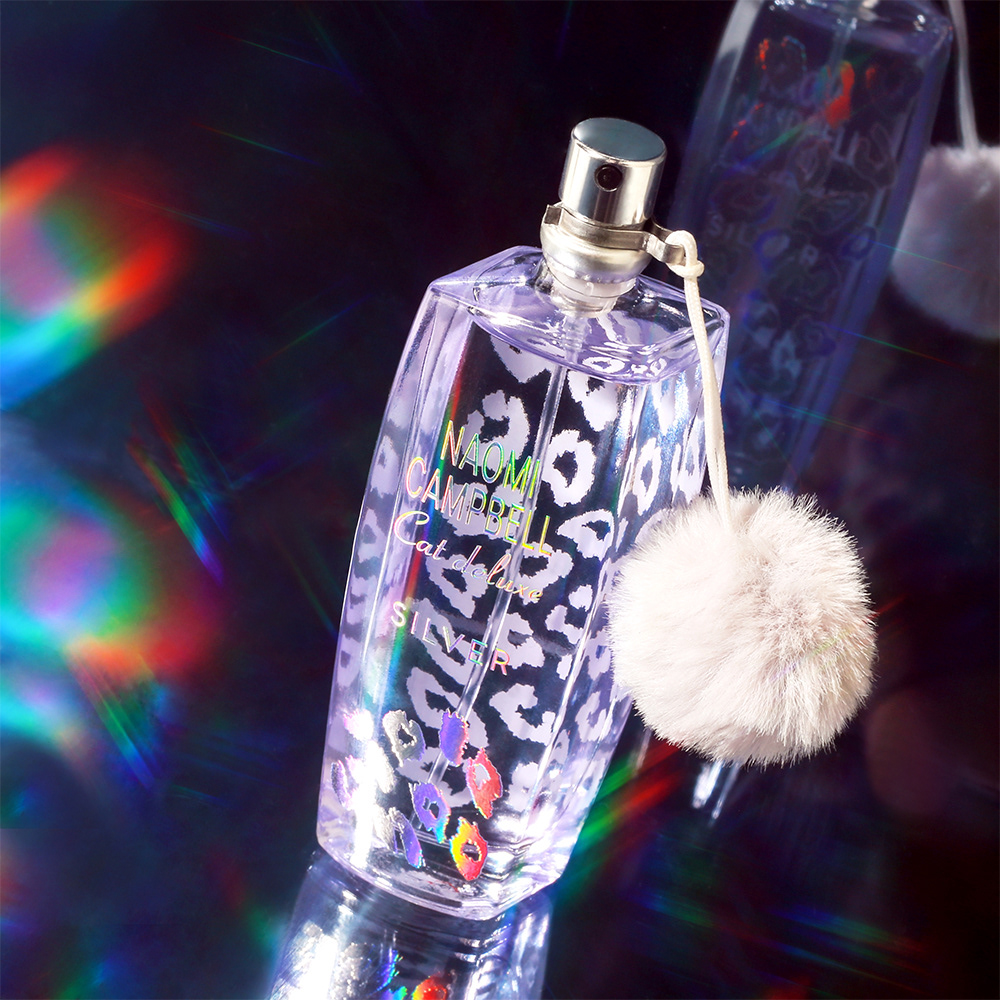 CAT DELUXE SILVER

NAOMI CAMPBELL
The fabulous fragrance from legendary style icon Naomi Campbell. 
Feline, sensual, bold and confident, Naomi's presence is magnetic and inspiring. Her allure goes beyond her breath-taking physical beauty – she possesses an aura unlike any other woman in the world of fashion, beauty, culture and activism. It would be no exaggeration to describe her as a 'force of nature'.
Cat Deluxe Silver confirms, once again, that no one 'walks the walk' quite like the ultimate catwalk queen – Naomi Campbell. Daring and exciting, the floral fresh fragrance captures all the spirit of the luxurious fashion world. Inspired by haute couture designer's sketches, the scent transports you to a fascinating shiny place. As a fashion model, it's time to embrace confident femininity and smile.
As you would expect, the beautifully realised packaging is silver themed. The box and bottle glisten with silver sheen with pastel-toned rainbow colours rippling through to enliven the background. The attractive, tall bottle is decorated with a witty pompom on a cord.
Naomi Campbell's first perfume is sensual, mysterious, erotic… it perfectly conveys the hypnotic power of pure female attraction.