Global Superstar and multi-platinum recording artist, Ariana Grande introduced her debut Prestige fragrance globally in 2015. Grande's global success in fragrance has been unprecedented with sales upwards of $500 Million since launch.
Each of Ariana's fragrances continues to surpass expectations, simply defying the trajectory of celebrity fragrances. This is a true testament to her ability to connect with her fans and her incredible passion to deliver an authentic fragrance for her fans.

The award-winning franchise boasts nominations for Fragrance of the Year, Media Campaign of the Year and Consumer Choice with the launch of 'Thank U Next' in 2019 and the exciting win for Fragrance of the Year for Cloud.
GOD IS A WOMAN
BY ARIANA GRANDE
Inspired by the grand power of nature, God is a Woman is composed of 91% naturally derived clean ingredients, a first for the accomplished Ariana Grande Fragrance franchise, and is 100% vegan and cruelty-free. In the two weeks following the launch of God is a Woman, a contribution from every qualifying purchase of the fragrance will be donated to ocean clean up initiatives – globally.
"I'm beyond thrilled to celebrate the release of our first-ever clean fragrance," says Grande. "We have, of course, been cruelty-free but taking this next step moving into clean, with responsibly sourced materials and vegan ingredients, is something we are all very proud of. I really adore this fragrance and hope it makes everyone wearing it feel beautiful and empowered."
"God is a Woman is a true representation of Ariana's powerful message to her fans. The alluring fragrance and brand mark an evolution of the franchise into Clean Beauty" explains Noreen Dodge, Chief Marketing Officer of LUXE Brands. "The brand has always been cruelty-free and uses the highest quality ingredients however, we are looking to transition our packaging across the entire line to more sustainable materials. Industry leaders across many categories are thoughtfully and intentionally taking these steps and you will continue to see exciting changes over time across the franchise."
Grammy winner Ariana Grande invites you to an out of this world experience with her dreamy new fragrance R.E.M.

Inspired by Ari's love of outer space and the universe, the new fragrance will make you feel like you can conquer the galaxy.
The beautifully crafted R.E.M. fragrance draws you in with an inviting blend of Pear, Fig and warm, salted caramel. Lavender essence, intoxicating musks and cashmere-like Tonka and sandalwood create the perfect trail on this unforgettable journey.
The delicate lavender coloured bottle with a shiny silver logo emblem and crystal cap ascending to the heavens contains the out of this world fragrance. This intergalactic elixir is encased in an amazing clear crystal-based with complex facets that reflect a show so inspiring it can only be seen in the cosmos. The story continues to unfold with the comic-inspired secondary carton. Watch as Ariana protects this amazing new fragrance across the galaxy and beyond... where dreams are reality.
THANK U NEXT
By Ariana Grande
The fragrance THANK U, NEXT embodies Grande's smash hit and anthem song 'thank u, next', which debuted at number one on the Billboard Hot 100 and at the time, went on to break the record for the most-watched music video with 55 million YouTube views in under 24 hours. 'Thank u, next" has become the phrase of the year, symbolising moving on and looking up; taking control in a positive and self-affirming way, always with a sense of humour. Coming off the exciting win of the 2019 Fragrance of the Year for Cloud, Ariana understood the importance of building a strong platform for her next brand and was the visionary behind extending the 'thank u, next' franchise into fragrance. The 'thank u, next' brand has a sassy playfulness and sensibility that is empowering for her fans around the world.
Ariana Grande Cloud is a joyful, new creation inspired by optimism and hope. This dreamy new bottle design stands apart from her existing fragrances. The uplifting and addictive new scent imbues a thoughtful, artistic expression of positivity and happiness from Ariana to her fans.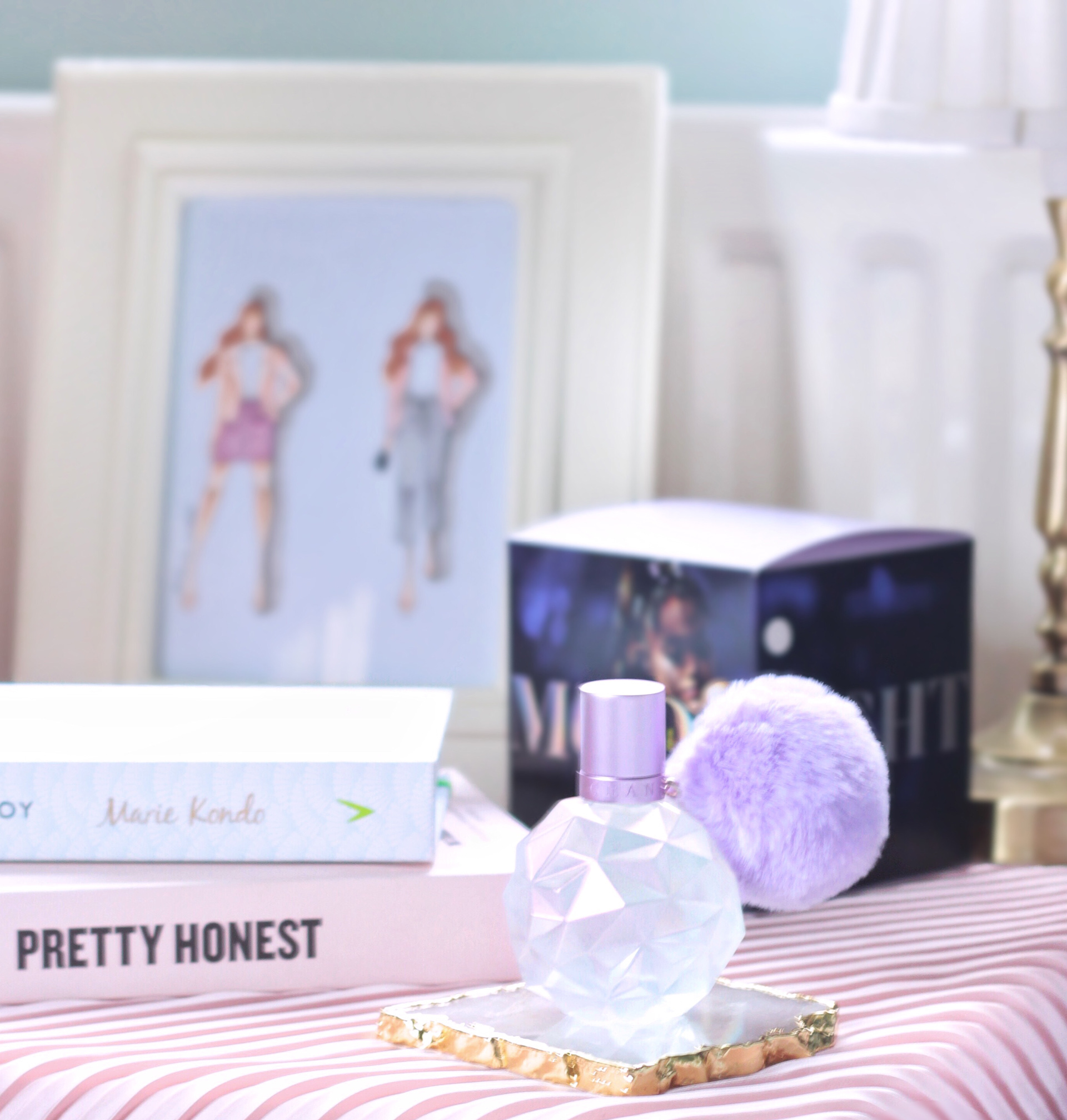 MOONLIGHT

By Ariana Grande
Luminous and alluring like the Moonlight, the new fragrance from Ariana Grande opens with sparkling rich black currant and juicy plum while the ultra-feminine heart of fluffy marshmallow and fresh peony add a captivating wink of intrigue and mystery. A final seductive touch of creamy sandalwood, black amber and sensual vanilla create an indulgent, lasting trail of addiction.
SWEET LIKE CANDY
By Ariana Grande