Since 1967, Maison CERRUTI 1881 in Paris, has been capturing the spirit of the times, creating a new and undisputed style for the modern man; 'daring nonchalance', that globally coveted Parisian 'je-ne-sais-quoi'.
This fashion brand with Italian roots is greatly admired worldwide for its strong heritage and craftsmanship. It is the synonym of quality and sophistication for those who appreciate style over trends. 
This unique lifestyle has inspired Maison's exclusive olfactory creations, combining refined elegance and contemporary energy. The portfolio embraces the classics; 1881 Pour Homme, expressing authentic masculinity created based on a classic fougère and 
1881 
Pour Femme, revealing subtle and delicate femininity with a woody floral accord. The latest creations are 1881 Silver, an aromatic and woody fragrance that exudes timeless elegance while combining power and refinement and the first Eau de Parfum of the Maison, 1881 Silver Night. A new intensity, spicy aromatic and woody scent. A memorable and iconic fragrance creation.
CERRUTI 1881 SILVER NIGHT
The new Intensity CERRUTI 1881 Silver Night Eau de Parfum, sets the stage for a night you'll never forget and captures the essence of a Parisian night, creating a hint of Midnight in Paris around Maison CERRUTI 1881, always faithful to its close ties with the world of cinema.
CERRUTI 1881 Silver Night is a spicy, aromatic woody fragrance that brings together opposites. A masculine scent that is both intense and refined, with a unique and recognisable signature. The essence of sensuality and seduction. With new initiatives towards sustainability, the fragrance was created using sustainably sourced, upcycled and renewable Oakwood CO₂ extracts from LMR naturals by IFF. The perfect blend of nature and science gives the fragrance a unique and addictive signature.
Tomer Sisley continues his collaboration with the House as the face of our fragrances and naturally extends his magnetic charm to 1881 Silver Night. For the campaign, he poses in front of Matias Indjic's lens in the salons of the Palace Lutétia, emblematic of legendary Parisian elegance.
Magnetic, Intense, Sensual.
Woody Aromatic Spicy
An aromatic and woody fragrance for men that exudes timeless elegance and relaxed charm while combining power and refinement. 
Named after the year Nino Cerruti's grandfather founded the wool mill in Italy in 1881, the fragrance has been one of the most consistently popular men's fragrances for over 30 years.
This classic fragrance for men has top notes of juniper, lavender galbanum, a heart of vetiver, ylang-ylang and cassia over a base of oakmoss, sandalwood and patchouli. 
An iconic bottle design, a raised '1881' over a rugged square bottle, with a ridged chrome stopper, evoking the machinery of the woollen mill associated with Maison CERRUTI 1881.
Fresh, Authentic, Timeless. 
Aromatic Woody Fougère
A call to the senses and the imagination. 
Like all Nino Cerruti creations which enhance movement, this timeless woody floral fragrance, with a pure and smooth composition, invites softness and caresses.
The perfume's delicate and intimate charm opens with a bright femininity composed of a floral bouquet of Lily of the Valley and Iris. The heart develops a light sensuality, combining Orange blossom and Jasmine. The base of precious and powerful woods such as Sandalwood, Musk and Cedar close the trail with elegance.
The bottle, a perfect circle of shades between natural skin tone and Italian light, prolongs this sensation of infinite softness. 
The whole is a promise of sophisticated simplicity, nature and freedom.
Authentic, Elegant, Subtle.
Woody Floral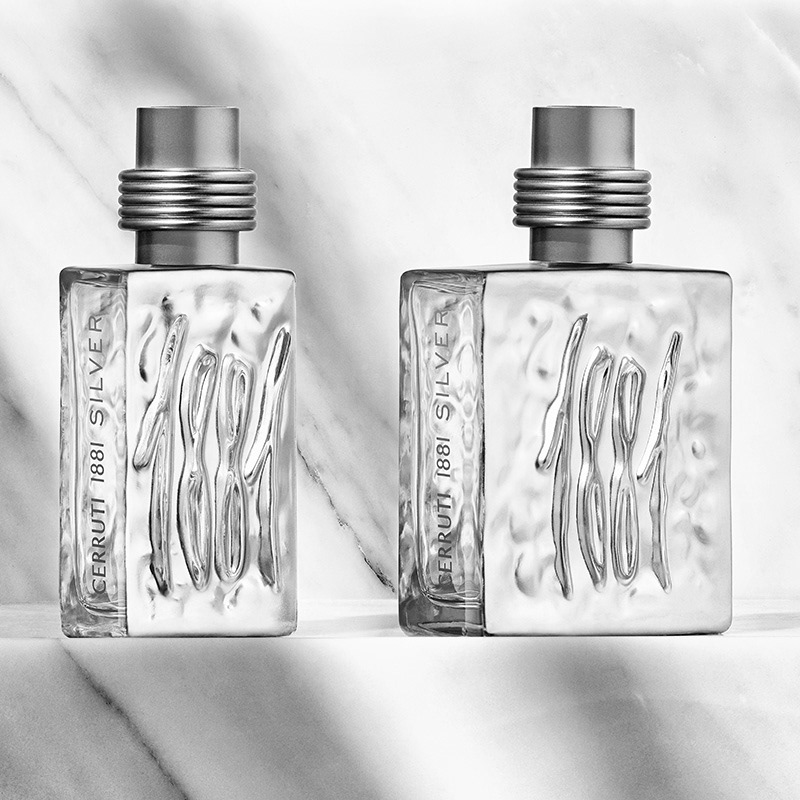 A modern interpretation of the iconic CERRUTI 1881. 
A fragrance that exudes timeless elegance and relaxed charm while combining power and refinement.
From runway model to face of CERRUTI 1881 fragrances, actor Tomer Sisley's deep gaze and natural elegance make him the perfect ambassador to embody CERRUTI 1881 Silver. His masculine confidence and magnetic charm invite us to stroll through the streets of Paris, from the understated luxury Hotel Lutetia to the legendary Pont Alexandre III.
Vibrant, Fresh, Sensual.
Aromatic Woody Fougere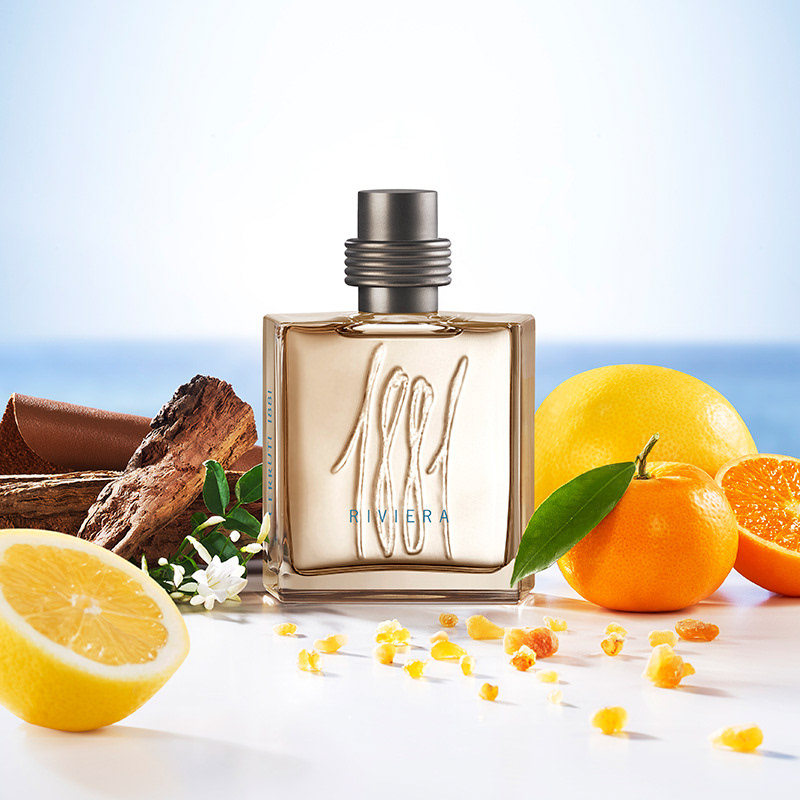 CERRUTI 1881 Riviera is an ode to the Mediterranean countryside and the authentic beauty of the Riviera.
Filled with the energy of the sea and the sun, the Riviera man is seductive and sure of himself, imbued with impeccable casual elegance. This self-confidence is the source of his strength and captivating charisma. All eyes are drawn to him, and he knows it. For this charismatic man, perfumer Michel Girard composed an elegant, woody scent―a sensual, luminous, contemporary men's fragrance.
Fresh, Luminous, Sensual.
Aromatic Woody Chypre